A friend of mine from college,
Katie Carruth
, told me a few months ago that she was starting her own interior decorating business,
Charming Innovations
. I was excited to hear about her shared passion for helping others with their homes, and I'm thrilled that she is pursuing what she loves! This past week, I was featured as a guest blogger on her site talking about decorating on a budget, and I thought I would share it with you!
Set a budget

This is probably the least fun part, but the most important! To prevent overspending while decorating, you need to understand what you can spend on each item. Begin by making a list of the items you need (sofa, pair of chairs, etc). Then, estimate how much you can spend on each and add the amounts together for your overall budget. This total will dictate what items you can afford to buy new, and what may need to be reused or bought secondhand. If the total you'd like to spend is more than what you have on hand, you should plan to make purchases over time, saving for the things you want.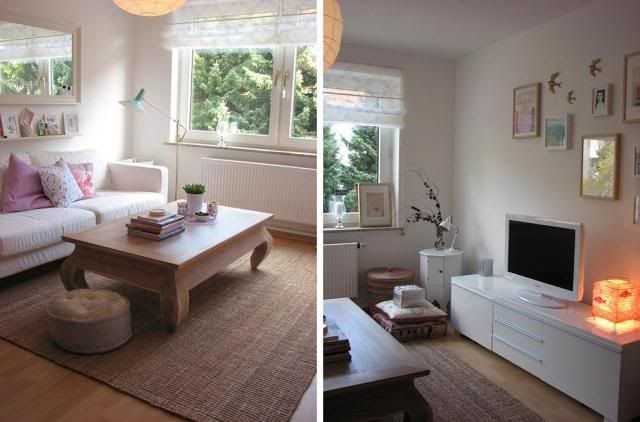 Know your options
As you begin to think of what you need for your room, realize that your material choices can directly affect your budget. For example, paint is less expensive than wallpaper, but if you really want the look of wallpaper, perhaps a stencil or wall decals could give a similar look. When shopping for upholstery pieces, know that leather is going to be the most expensive. Pre-made window treatments are less expensive than custom draperies, but you can get a similar effect by adding trim. As Callie mentioned, sisal rugs are usually more affordable than wool rugs. Laminate wood is less expensive than hardwood. Sometimes you can get the look for less!

Do it yourself
You can easily save money in your home by tackling some projects yourself! You can paint a room in a day for very little money. Painting is probably the cheapest and quickest way to transform a room! Hanging wallpaper is also a skill that can be learned fairly easily. Consider learning more about how to paint furniture, just like Katie has done. You may be able to transform furniture pieces that you are considering tossing! If you know how to sew or have an interest in learning, you can make pillow covers, tablecloths or runners, curtains, and more. That is a perfect way to give your room a custom look without paying more for it! When shopping for new furniture, look for pieces that you assemble yourself. They tend to be less expensive, but can have the quality of already-assembled pieces. You can also create your own artwork! Be inspired by abstract artists or take photos of some of your favorite places and have them enlarged! In your kid's rooms, photocopy illustrations from their favorite books for art they'll love! If it is a custom size but needs to be framed, buy a standard size frame and have the mat cut to size. Reusing anything you already have will certainly save you money - look for ways to transform it!
Shop smart
If you are on an Ikea budget, you shouldn't walk into Pottery Barn to find your main pieces. Be smart about where you allow yourself to shop so that you aren't tempted to overspend. You can find quality furniture and accessories at secondhand sources like Craigslist, Ebay, yard sales, consignment stores, flea markets. Check outlet stores or shop end of season sales. For your main pieces, don't buy anything too trendy that you are likely to tire of. Instead, use inexpensive accessories to add interest.
Spend wisely
For the most part, the saying is true - you get what you pay for. I'd like to make the point that getting the best price now may not be the wisest purchase. For example, bargain furniture stores sell sofas for $500 or so. A $500 sofa is made differently than a $1500 sofa. What is the difference, you ask? While it varies, it may mean that the wooden joints haven't been reinforced, the cushions are made of foam, and that the upholstery is synthetic. This means that the piece isn't as structurally sound and may crack over time. Foam cushions aren't as comfortable as feather cushions, and they aren't as likely to bounce back with use. Synthetic upholstery can be resilient, but I can promise you that the fabric on a $500 sofa was not expensive. Micro-fiber fabric, which is commonly used, is composed of little bits of fiber that are glued together to form the suede-like fabric. Overtime the glue will break down and the fibers will flake off. Consider that a $500 sofa may only last three years, while a $1500 sofa may last twenty-years, saving you a good bit of money in the long run. (The amounts mentioned are general, and are not direct indicators of the quality of the furniture.) I can hear you thinking: It makes sense that a $1500 sofa would be better quality, but I just can't afford that right now. Instead of buying new, consider buying used, but look for things made by reputable furniture companies.

Find out as much as you can about how the furniture is made. I've seen pieces of painted, solid wood furniture that weren't primed first, and over time the wood began to show through! As for me, I spent the most on my sectional because that was the place that I could feel the biggest difference in quality based on the comfort. On the other hand, I knew I didn't want to spend much on a coffee table because I wanted to be able to put my feet up on it. Decide what is most important for you.
I hope these tips help you stick to a budget while decorating your home! If they left you feeling overwhelmed about where to start or unsure of what items to keep and what to toss, consider hiring a professional to help you develop a design plan. With experience working within budgets, we can help you know where to look and how to cut costs. Happy decorating!