A few weeks ago I won a contest on
Brittany's blog
! [
Brittany
is one of my lovely co-workers. You can't miss her platinum blond hair, frenchy style, or golden personality.] I won the lovely 'Extra Ingredient Apron' from
Anthropologie
, and I'm hoping it will inspire more time in the kitchen!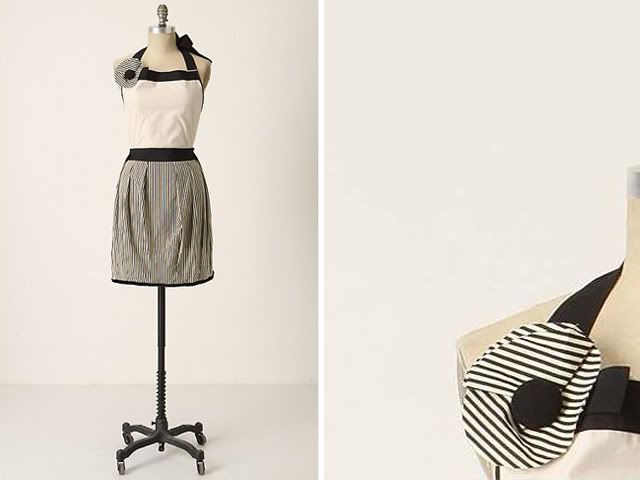 And, if you're looking for something delicious to make, you should try
Nilla Wafer's Banana Pudding recipe
! Everything is made from scratch, and it's delicious! I think I've made banana pudding four times over the past month - it's that good!
Original Nilla Wafer Banana Pudding Recipe (+ my suggestions)


Prep Time: 30 min. 45 min.
Bake Time: 20 min.
Ingredients:
3/4 cup of sugar, divided
1/3 cup of flour
Dash of salt
3 eggs, separated
2 cups milk
1/2 tsp. vanilla
45 60+ Nilla wafers, divided (my favorite part!)
5 4 medium ripe bananas, sliced (little to no green)
Directions:
PREHEAT oven to 350°F. Might as well wait unless you want to waste energy. Start by boiling water and cutting up the bananas (I prefer them cut very thinly). Mix 1/2 cup of the sugar, flour and salt in top of double boiler. Or pretend you have one like I do. Blend in 3 egg yolks and milk. Cook, uncovered, over boiling water 12 minutes or until thickened, stirring constantly. Hello wrist cramps. Remove from heat; stir in vanilla. Now you can preheat the oven to 350°F.
RESERVE
(at least
) 12 wafers for garnish.
Spread small amount of custard on bottom of 1-1/2 quart baking dish; cover with layers of 1/3 each of the remaining wafers and sliced bananas.
Pour about 1/3 of the remaining custard over bananas.
Continue to layer wafers, bananas, and custard to make a total of three layers of each, ending with the custard.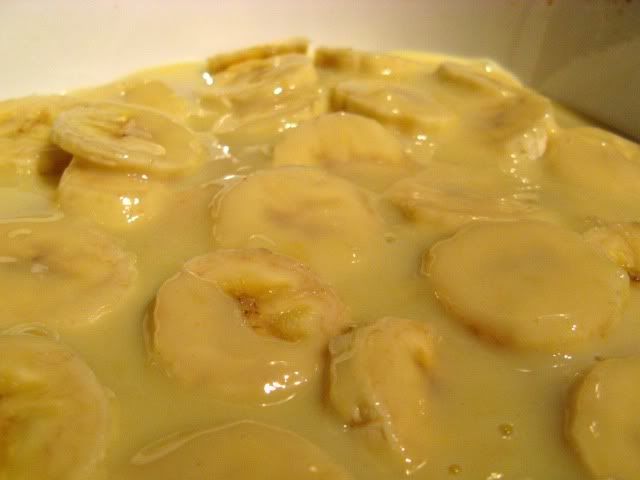 BEAT egg whites on high with electric mixer until soft peaks form. Gradually add remaining 1/4 cup sugar, beating until stiff peaks form. Spoon over custard; spread evenly to cover entire surface of custard, sealing well to edge.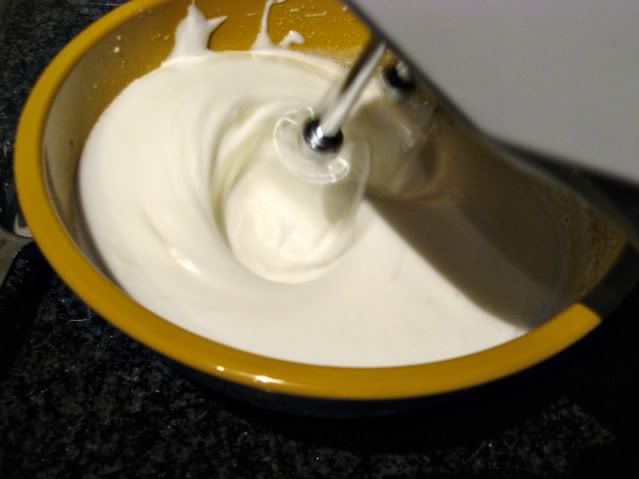 BAKE 15 to 20 minutes or until lightly browned. Cool slightly. Top with reserved wafers just before serving. Try it while it's still warm – it's amazing!