I love what I do. After a lot of thought and prayer, I decided about six years ago that I wanted to be an interior designer. I can't deny the desire that God placed in me to be creative, but specifically to create inspiring spaces. Everyone deserves design, and if you've ever seen
Extreme Home Makeover
, you've seen what a difference design can make in someone's life. But what exactly do I do?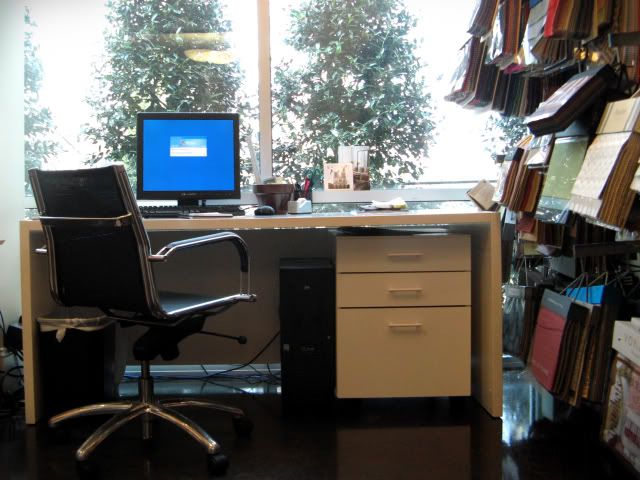 That is my desk at work. I work for
Design Lines, LTD
, an interior design firm located in Raleigh.
Judy Pickett
started Design Lines thirty years ago, and it has now grown to eight employees, with six interior designers. I'm the newest addition to the team, and I've really enjoyed working on various projects - everything from high rise condos, vacation homes, and personal residences to commercial facilities like the
alumni club at NC State
. Sometimes we work with architects and builders on homes throughout the construction process. Other times we work with homeowners to furnish and accessorize their homes. I'm an interior designer, not a decorator. While I do decorate on occasion, there is a big difference between the two that most people don't realize. To understand more about the difference, click
here
.
I recently blogged about some accessorizing I did for the 2008 Parade of Homes on the
Design Lines Blog
. Although the home was empty, the idea was to create areas of interest, snapshots if you will, that visitors would remember. Here is a slide show of the images that I captured just before the Parade of Homes opened last fall: