In the months we've lived in our
home
, we've worked to make it our own. We've tackled a variety of projects with plans for more. Most recently we built a fence with our neighbors and renovated our powder room.

The new vanity and mirror are from Lowe's, and the faucet is from Home Depot. For under $200, the vanity included the granite top and under mount sink.

The paint color was chosen from the cover of a
book
that we got recently. (It is more accurately represented in the above photo on the left.)

Before & After: We kept the light fixture, but the medicine cabinet mirror was very small. The oval mirror is much better in size and proportion to the vanity. The pedestal sink was alright, but it is nice to have storage in there now, and the color is much better!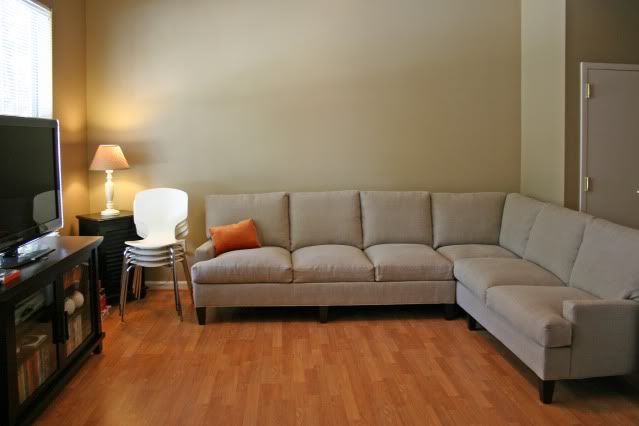 Our living room: The
sectional
just arrived a few weeks ago, and now we are working on finding side tables, a coffee table, a rug, lamps, pillows, window treatments, and artwork. The
television
was one of the first things we purchased - even before we had anything to put it on! Kyle did a great job researching which one he wanted. The console is from Crate & Barrel, and the lamp and side table I had in college.
We purchased our
dining table
because of the top that pulls out to go from seating 6 to seating 10. In February, Kyle and I started leading a
community group
through our church. Each week we have around 15 people that meet and eat at our house. We needed a way to maximize our space and the dining table has been great! We also set up a card table in the living room. The
chairs
stack to the side when we don't need them.
Our kitchen: We love the look of the granite countertops and the stainless steel appliances. The pantry (not shown) provides additional storage. I would like to paint the cabinets, add hardware and molding, tile the back splash, and change the paint color.
Our bedroom: The
bedding
was a great compromise between what we each wanted - I like pattern while Kyle preferred solid bedding. We ordered the upholstered bed frame and then I had an upholsterer make the headboard to match. On the accent pillow, I laid a printed fabric from
Romo
that I'm considering using. I want to use accessories to bring color into the room.
We got a great deal on our nightstands from
Whitley Galleries
because they were a discontinued style. Next, we need lamps, art work, and curtains. Across from the bed we have a
desk, media, and storage system
, but it is pretty empty right now.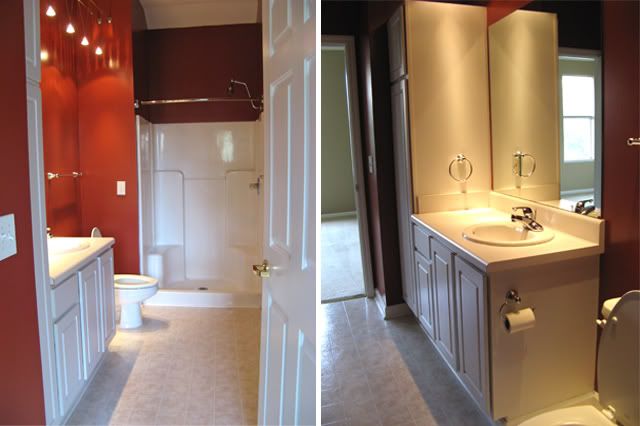 This is our master bathroom as it looked the day we moved in. Not much has changed. It was painted the same red color as the other bathroom. We're hoping to repaint, change the vanity or at least the counter top, get a new mirror, and tile the floor. We're also planning to change out all of the brass hardware found on the doors.
Shortly after moving in, we added a
closet organization system
in our 8' x 8' closet. The three shelves that were in there before hardly took advantage of the space. On the left wall, the poles were hung too close together and you couldn't actually hang clothes from it. Now we both have plenty of space and lots of shelves for other things. We bought some of the accessory pieces, like a tie rack and shelves for shoes, and now we have shelving on three walls instead of just two.
Almost any interior designer would tell you, it's a lot harder to do your own home than it is to work on others. I haven't rushed to make it look finished, but instead we've taken our time finding pieces that we know we'll enjoy for a while. We chose a few pieces to invest in - mainly our mattress and our sectional, which we will have for a long time.
How have you made your space a home? What pieces were most important to you?